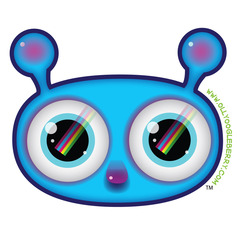 As you all know I am such a sucker for cute things. That is why I really like Olly Oogleberry. Olly Oogleberry is a super cute loveable alien! If you have not heard of it yet, trust me you will . Your kids are gong to fall in love with this little alien.
From Olly Oogleberry Website:

After traveling 11 million light years from his home planet of Oogleberry, Olly and his merry band of alien misfits finds the companionship of young earthlings who share with him all the wonders of your extraordinary planet, Earth. In return, Olly Oogleberry teaches earthlings about space, aliens, UFOs and distant galaxies. Together, you and Olly share memorable, lifelong experiences.
TESTING Olly Oogleberry: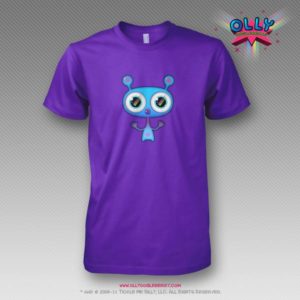 I received the Birthday Suit tee in purple. It is simply a super cute tee. In fact it is so super cute that my teenage neice has stolen my shirt and now wears it all the time.  She said none of the other kids have one and she loves to be a trendsetter. The shirt is 100% cotton. It washed weell but I did wash it in cold water and line dried. I washed it with like colors as well as purple tends to be like red and bleed. The shirt is very comfortable and wears well. It is an unisex cut.
PROS of Olly Oogleberry:
Tons of cuteness and fun
Kids willlove it
GREAT website
Washes and wears well
CONS of Olly Oogleberry:
LEARN MORE about Olly Oogleberry
SHOP Olly Oolgeberry products