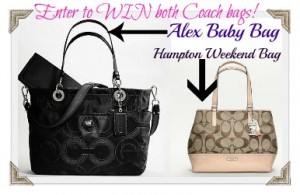 I thought I would do something fun for all of my readers and giveaway not 1 but 2 Coach bags!!! As mom you can never have enough bags so why not have one for baby and one for yourself ? Of curse you might as well be stylish while you carry them too. Entering will be very easy !
Giveaway Ends: July 4, 2012
How to Pin:
You can anything here on my blog by simply clicking the RED pin button under the post. You will see it with the Tweet and Facebook button. Click pin and then select your board.
You can also pin using your Pin It button in your browser if you have one installed.
Not sure how to pin or can't get it to work? Drop me an email and I will be more than happy to help you.
**Please let me know if you have issues with Baby Moksha as it is a new site and we are still developing**
Thank you for your interest in this giveaway. It has now ended and the winner has been announced on the Winner's Board.