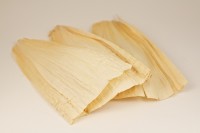 No Mexican kitchen is complete without corn husks! They are a staple as they are used to make tamales. Although I must admit that mine are not as good as my mother in-laws but hey you can't win them all right? I do have a confession to make, I don't really like tamales but everyone in my family does. The Latin Products has you covered as far as corn husks go. You can get them in 1 lb, 10 lbs, or 24 lbs. If you are new to tamales I would suggest the 1 lb. to begin with.
I thought I would share my Tamale recipe with you today. Please note this is by no means the traditional recipe it is just the one I use.

Ingredients
Tamale Filling:
1 1/4 pounds pork loin
1 large onion, halved
1 clove garlic
4 dried California chile pods
2 cups water
1 1/2 teaspoons salt
Tamale Dough:
1 (10.5 ounce) can beef broth
1 teaspoon baking powder
1/2 teaspoon salt
2/3 cup lard
1 cup sour cream
Directions
Place pork into a Dutch oven with onion and garlic, and add water to cover. Bring to a boil, then reduce heat to low and simmer until the meat is cooked through, about 2 hours.
Use rubber gloves to remove stems and seeds from the chile pods. Place chiles in a saucepan with 2 cups of water. Simmer, uncovered, for 20 minutes, then remove from heat to cool. Transfer the chiles and water to a blender and blend until smooth. Strain the mixture, stir in salt, and set aside. Shred the cooked meat and mix in one cup of the chile sauce.
Soak the corn husks in a bowl of warm water. In a large bowl, beat the lard with a tablespoon of the broth until fluffy. Combine the masa harina, baking powder and salt; stir into the lard mixture, adding more broth as necessary to form a spongy dough.
Spread the dough out over the corn husks to 1/4 to 1/2 inch thickness. Place one tablespoon of the meat filling into the center. Fold the sides of the husks in toward the center and place in a steamer. Steam for 1 hour.
Remove tamales from husks and drizzle remaining chile sauce over. Top with sour cream. For a creamy sauce, mix sour cream into the chile sauce.
Ready for the next $10 gift code giveaway? Enter below for you chance to win!
ENDS July 5, 2012 at 11:59 pm EST