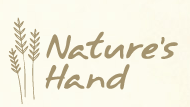 We have working on eating better snacks and granola is the one item that we all love. I love it in my ice cream! A little french vanilla ice cream with granola makes me weak in the knees. I recently discovered a new granola company called Nature's Hand and I must tell you that I really was pleased with it. Nature's Hand has been in business for quite a while and knows a thing or two about granola.
Over 40 years ago, two Bavarian immigrants who resided in Minnesota decided they wanted to begin blending and baking their own unique mix of grains and nuts. This recipe would come straight from Northern Europe and was a recipe that had been used and shared with many people back in the old country. The founders never had any intention of marketing and selling their product initially. They baked it simply because they loved the taste of the granola they were making

For the next three decades, the founders baked and sold their granola, slowly expanding their reach over much of southern Minnesota and western Wisconsin. They originally formed a company called Nature's Harvest, but then changed the name to Nature's Hand a few years later. The company had a loyal customer base that used the product as a cereal, a topping, and a baking ingredient with other delicious recipes.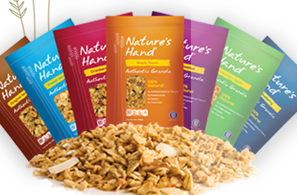 I received two bags of Nature's Hand granola,French Vanilla Almond and Cranberry Delight, to try out and I will tell you that I really love both of them. I use the French Vanilla Almond as my new ice cream and yogurt topper because it has the slightest vanilla flavor without taking away from the food it is on. The Cranberry Delight is my new breakfast granola as well as my mid-morning snack. I put it on my oatmeal and cereal because the cranberries are perfect for that little something extra. Both come in a resealable bag which makes storage a breeze and it is easy for the kids to get into which makes me happy (I'd rather they were getting in granola than cookies.) With six other flavors there is something for everyone.
Nature's Hand has a wonderful recipe section on their site that has a few recipes that I am just dying to try out. The ice cream pie recipe looks and sounds yummy. It looks perfect for a sort of grown-up birthday side dish. Of course for you to try out the recipes you will need some granola. So how about 2 bags? Enter below for your chance to win.
ENDS July 10, 2012 at 11:59 pm EST
The giveaway has now ended. The winner has been announced on the Winner's Board