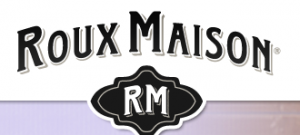 Laundry Detergent can be one of the harshest chemicals we use without even thinking about.I have been on a quest to use products that are natural and won't harm my family. I had the opportunity to review Roux Maison Laundry Detergent and was thrilled to do so. Roux Maison is a company that is dedicated to keeping chemicals out of my laundry.
Our goal is to formulate innovative consumer products that maintain the investments we make in ourselves, our families, our homes and our environment, while saving money on dry cleaning and replacing items that we love.   Using the highest quality ingredients, we create tomorrow's heirlooms by preserving the items we love today, thereby safeguarding all of us from the multitude of chemicals commonly found in many household cleaning products.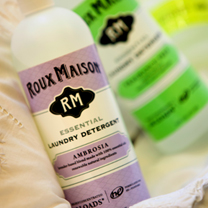 I received four trail size detergents to review. First was their Essential Detergent which is available in Ambrosia, Sweet Tea, or Fragrance Free. My favorite was the Ambrosia because I really enjoyed how it made my whole laundry room smell wonderful during the wash. It is lavender-based and made with 100% essential oils.   Roux Maison is awesome because it works in both he and standard washing machines. Next was the Delicate Detergento which is ideal for machine washing  or hand-washing all your pretty things. I hand-washed mine and they came out much cleaner than they ever have. I wish I had taken a picture of the water, it was almost black. So now all my pretty things are perfectly clean.
You only need two little capfuls  to get a full load of clothes clean and smelling wonderful.  It's really concentrated so you don't need much. If you hand wash then you only need 1 capful. Roux Maison is hypo-allergenic and the bottle is bpa-free.   I really love the trial size because I can take it on vacation with us.
Roux Maison has a great section on their website called Cleaning Tips. It has just about everything you need on there to learn how to treat stains, when to wash certain household items, how to wash certain clothing items and more. I've been doing laundry for a LONG time and still found this section really helpful and useful.
You can find them on facebook and twitter.