As you all know I do a lot of walking. Mostly it is to help me get my booty back into shape but I also enjoy doing it. The biggest problem with walking or running has been carrying my phone, keys, etc. I shared with you recently that I had found a couple of products to help me with this. Let me introduce you to the Armpocket. Armpocket is unique in that is actually fits around your arm. You can run, walk, whatever with it on and it will not slip.
The Armpockethas been developed by a team of active athletes.

Needing to carry their cell phones, car-keys, energy bars and gels on their long pre-marathon training runs and the gym—they tried every type of carrying device known—hip-packs, back packs, belts, multi-pocket running shirts and shorts. After several bruised hips, strap welts, dropped and moisture-damaged cell phones and car keys, they came up with idea of the "Arm-pocket". After 3 years of constant improvement, the first Armpocket was launched in 2006, creating the world's most comfortable and versatile hands-free carrying system—best of all, Armpockets are ECO-Friendly.

The Armpocket is patent pending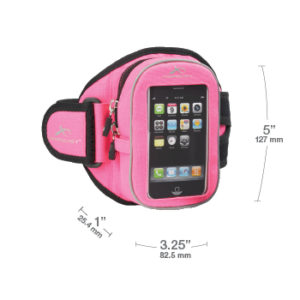 I received an Armpocket Sport i-20 in Pink to review which is also available in black,purple,khaki, navy blue,orange,fluorescent yellow, and red. You can choose from a medium strap size (10-15 inches arm size) or a small strap size (8-10 inches arm size.) The Armpocket has many features such as; water and sweat resistant, touch-through screen, and does not slip among many others.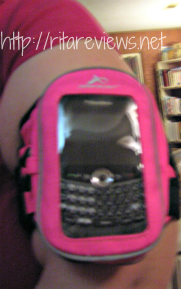 I went right to using my Armpocket and found that it is perfect! Everything I need fit rights into this little bag and I carry it on my arm. I tend to sweat lot and this can handle all the sweat I can dish out.At first I was disappointed because I had wanted to hook my headphones up to my phone, listen to my music, and answer my phone if I needed to. I could do it but couldn't zip up the pouch. All of the paperwork and the website talked about a low profile audio port but I thought I just didn't get the model that had it. All I can say is…My hair used to be blonde!! The audio port is on the underside of the pouch. When they said low profile they weren't kidding. I feel a bit stupid but now it is the PERFECT accessory. I know I am not wearing mine very high u in the pic but this is where it is comfortable for me. I can get my keys, phone, money, driver's license, and mints all into this handy little pouch. It is available with the touch-through screen or without. Since I am upgrading my phone so I went with.
The Armpocket is perfect for the gym and there are three different styles to choose from. Want to try the Armpocket out for yourself? Well one lucky reader will win one of their very own to do just that! Enter below for your chance to win.
ENDS June 29, 2012 at 11:59 pm EST
The giveaway has ended. Thank you for your interest. The winner has been announced on the Winner Board.