There's a fun, new product discovery service, specifically aimed at moms, moms of kids, and moms-to-be called Ecocentric Mom. I was really excited about Ecocentric Mom because it's a really easy way to bring healthy, quality products into the home.  Ecocentric Mom is the perfect opportunity for those who are looking to begin living the "green" life. You have a chance to try out several products and see if they're a good fit for your family before making a the bigger commitment.

Here's a peek inside my Founding Members July Mom Box:
Greenbody Greenplanet Organic Hair Care: Two samples sets of shampoo and conditioner in each of their formulas. These were great for our trip because they were the perfect travel size and I was thrilled they left my hair feeling better than my regular shampoo.
Tree Hugger All Natural Bubble Gum: This is a great mix of grown-up and kid-friendly flavors which thrilled my kids.
Orgain Organic Nutritional Shake: I haven't yet had a chance to try this. So glad that I got the chocolate flavor because I am nervous and having chocolate makes everything better.
Naturally It's Clean Floors: Three sample packets of their floor cleaner. These work wonderfully!
Vaska Laundry Detergent: These left my laundry super clean!
Eat Cleaner Fruit & Vegetable Wipes: Two packets. I didn't even know there was such a thing.
Divine Mama Bars: Two full size bars that are perfect for the breast-feeding mom and taste super yummy!
Earth Mama Angel Baby Body Butter: I cannot begin to tell you how wonderful this will make your skin feel.
Every few months or so, Ecocentric Mom will include special gifts for "Founding Members." A Founding Member is someone that joined Ecocentric Mom for their launch box, so all recipients of the July box are considered Found Members. This month there were two Founding Member gifts: a natural cotton reusable branded bag and a free 3-month subscription to Ecocentric Mom after a 12-month continuous membership. You'll be able to tell the Founding Member gifts in future boxes by a cute little heart sticker.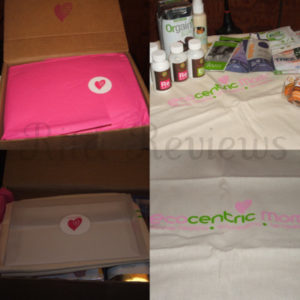 Remember there are three different box options with Ecocentric Mom. For $17/month, you can choose the "Mom" box, like the one above, the "Baby" Box, or the "Mom-to-Be" Box, all boxes will contain some things that are the same, but other things geared toward the box you chose. If you want to pay for multiple months up front you'll get a nice discount on your subscription! You can check out Ecocentric Mom on Facebook to get involved with their community of subscribers, learn about eco-fabulous companies, and hopefully get sneak peeks at boxes!