Always on the lookout for the cutest baby clothing at great prices I am thrilled to introduce you to Funkoos. Don't you just love that name? Try saying that three times really fast! Funkoos is a super cute, super friendly organic children's clothing company who also give a part of  their earnings to charity.
From the beginning, we vowed to manufacture our Funkoos brand clothing from the finest organic, chemical free-fibers. Our styles are always fun, simple, and super-friendly to young children's sensitive skin. Our mission is singular – to manufacture our clothes in 100% fair-trade work environments, keep our clothing purely organic, and give a portion of our profits back to the planet through our many charitable causes.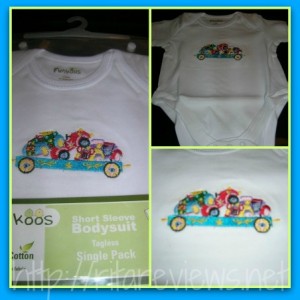 Funkoos was wonderful enough to send me their Circus Train  Short-Sleeve Bodysuit to review.  The first thing I noticed right away was how wonderfully soft this bodysuit was. It felt wonderful so I knew I could be confident allowing baby to wear it.  I am still learning a lot about buying organic clothing and I feel as though this bodysuit is made of some of the best organic cotton I have seen. It has a cute circus embroidery that says:
"The circus is coming to town with our intricate embroidery of clever clown cars."
Funkoos markets this as a boys bodysuit but it could just as easily be worn by a little girl. The embroidery colors are very rich and vibrant and I just love the use of primary colors against the white. I know what you are all thinking "White for a baby?" This bodysuit washes very well, in fact I got spaghetti stains out of it.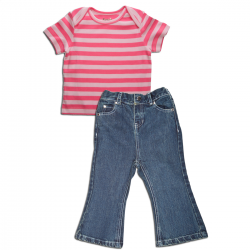 Funkoos has so many super cute items including their Baby Sets. I am a huge fan of getting a couple of items at a great price. The little tees and jeans are so super cute and they come in both boys and girls colors. Of course the Layette Sets aren't shabby either!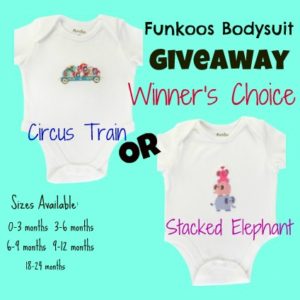 Funkoos has wonderfully offered a bodysuit to 1 lucky Rita Reviews reader. The winner will get to choose between the Circus Bodysuit I reviewed and a Stacked Elephant Bodysuit. Both shown above. Enter below for your chance to win.
ENDS July 25, 2012 at 11:59 pm EST
Giveaway has ended and winners announced on the Winners Board.