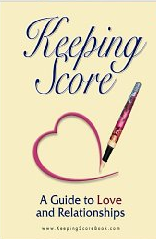 About the Book:
It's a relationship book even a man can understand.
Keeping Score provides a relationship evaluation quiz followed by a common sense guide for relationship improvement, all with a humorous twist. You can determine if your relationship has the qualities it takes for a successful marriage and lasting love affair. If you're single- read this book to see how well your potential life partner measures up. If you're married- read this book to reduce conflict and increase your happiness.
Take control and shape your marriage into a relationship that will stand the trials of life and go the distance.
My Thoughts:
When it comes to relationship books I have read dozens. As the wife of a man who had an affair I spent months a few years ago reading everything I could get my hands onto to figure out how to repair our relationship. With Keeping Score (A Guide to Love and Relationships) I actually got something out of the book! At first I thought Marc's simple approach was the same old stuff that I had read before. As I kept reading and began taking the quiz and absorbing the information Marc was providing to support his way of thinking, I started to realize that I had misjudged both the book and the author. This is one genius of a book or maybe it is just that Marc is a genius! I really enjoyed this book.