Here are three more movies from Phase4films.com I was sent to watch and review with my children.  There is something for everyone so stay tuned for all the reviews. All of the titles are  available at Target, Walmart or online at Amazon.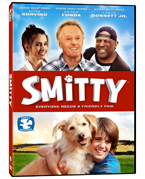 About the Movie:
Mischievous thirteen-year-old Ben is sent to his grandfather's farm for the summer, where he crosses paths with a lovable mutt. With help from the unlikely canine companion, Ben learns the importance of friendship, family and responsibility. When life gets tough for Ben, a friendly paw is all it takes to pull him through.
My Thoughts:
This was a tearjerker for me and left my children asking me questions. It is a family film that tugs at the heartstrings and makes you feel good. Smitty is full of lessons that your children will pick up such as the way the boy should have treated people so you can be confident in watching it with them. Just be ready for the questions.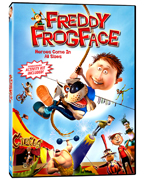 About the Movie:
Being small doesn't make life easy for little ten-year-old Victor and his friends, who not only have to face a world full of stern grown-ups but also the town bully Freddy Frogface. When a circus comes to the sleepy little town, Victor is thrilled at having the chance to perform in a talent show with his dog Sausage. Yet Freddy soon comes up with a sinister plot of his own to spoil Victor´s plans…
My Thoughts:
As someone who is smaller than most people I can relate to Victor. I really enjoyed this movie and the animation. I will say that it was not one of kids favorites but then what do they know? There are plenty of funny parts in the movie that you will enjoy.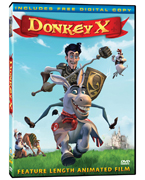 About the Movie:
Follow Rucio, the most adventurous, brave, and mischievous donkey of Castile as he tells the true story of the legendary Don Quixote. Rucio jumps at the opportunity to join Don Quixote on his quest to battle The Half Moon Knight and overcome the dangerous obstacles that lurks them on the way.
My Thoughts:
This was my absolute favorite movie of the bunch! It was super cute and although Rucio is similar to another famous donkey (who is even mentioned) he has his own unique charms. My kids learned just how important being "knightly" really is and I got to enjoy a great little movie with them.