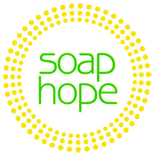 Soap Hope is a company with a unique mission; to help aspiring women become educated, obtain healthcare, and start her own trade so she can support her family. That is why they created the Good Returns Business Model:
It's simple: every dollar of profit earned by a Good Returns company goes first to an institution that uses it to solve world problems. After those profits have spent a year in service, the money is returned to Soap Hope. It's like the Peace Corps for money: we volunteer every dollar for a year of service.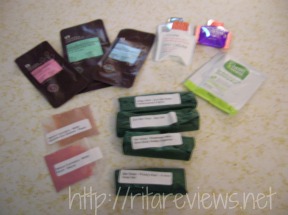 On top of all that Soap Hope has an assortment of fabulous items such as bath products, body products, baby products, and obviously soap. All of the products are high quality and natural which you know I love. Soap Hope was wonderful enough to send me a package with lots of in it but I must say that their packaging was the thing that really caught my eye.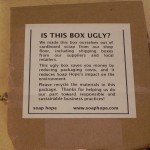 Their "Ugly Box" is made from recycled cardboard which means that both you and they save money. It also means they are helping the environment which makes that one of the most beautiful boxes I have ever seen. At least to me it is. The smell of the box was the most wonderful aspect. When you receive it there is this wonderful mix of scents that you can't quite place but that your nose falls in love with.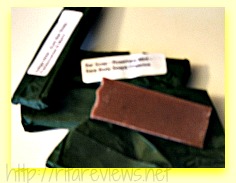 The soaps that I received were simply gorgeous! My body loved the feel of them and I loved how they made my body feel. The scents were great and natural without being overpowering which is something I like because my nose can be a bit too sensitive sometimes. Now I did not receive full bars but the pieces that I received lasted for several days each and stood up in my shower. Meaning they didn't just melt away when the water hit them.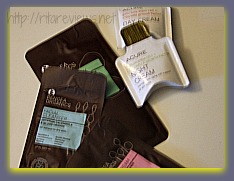 The creams for my face made me feel like I was at an exotic spa. They made my daughter or my mother feel the same obviously because I got to use two and then discovered that they were missing. I am a cream addict so getting more than one to try out really made my day and I wish I had gotten to try them all.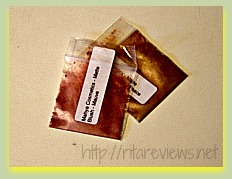 The two eye shadows I received were great as well. They went on very smoothly and didn't leave that horrible little crease that you sometimes get when you wear eye shadow all day (it may just be me.) I love the deep colors and they look great on me, if I do say so myself!
Soap Hope is truly a wonderful company that I am thrilled to not only have worked with but to have discovered as well. They are giving one very lucky Rita Review reader a $25 Gift Certificate to their site and when you click over to enter the Soap Hope Giveaway you will also find a code to get 10% off!
**Please nite that Soap Hope is running this giveaway for Rita Reviews readers and are responsible for the prize.**