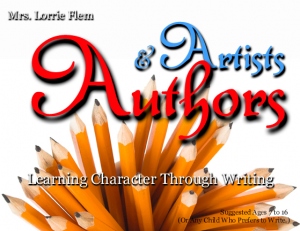 Time for another Gabby Moms review thanks to Mrs. Lorrie Flem at Eternal Encouragement! This month it's a super fabulous little book called AUTHORS & Artists: Learning Character Through Writing. I was pleasantly surprised when I opened my package – inside was a beautifully wrapped little book. This book was loving wrapped in pretty pink tissue paper and a simple tulle bow. The biggest surprised was the size of the book; a mere 4″ x 5″ x 1″ which I immediately realized this would be perfect for in the car! My kids love having books in the car and why not learn while they read and do.
As I flipped through the book, I found all sorts of wonderful teaching and encouragement. I know this book was written for children, but I can also see benefits for adults too! Some of the pages include Biblical Character Traits and The Commandments. Pages are included for holidays as well.
The method behind it is so great! Each page has a title at the top such as Listening, followed by several blanks lines. There is a description of the trait as well and you child fills in the blanks answering the question(s) in the description. I love that there really is no wrong or right answer! It s based on what your child understands. We are doing a page or two every time we are in the car and discussing the topic as we go.
You can win a copy of this book, AUTHORS & Artists, as well as a copy of ARTISTS & Authors by going to the following posts on Lorrie's blog:
Don't forget to tell them  Rita Reviews sent you!
Disclaimer: I received a copy of the Authors & Artists book in exchange for my honest review as a part of the Gabby Moms program. All opinions are my own.