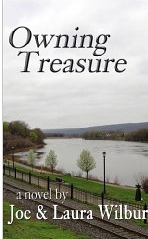 About the Book:
Owning Treasure is the story of Antonio Pagano, a man who lives amidst the unrelenting suspicion of a petty theft he insists he did not commit, but which nevertheless defines his life. On the day of the crime a disaster of epic proportion occurred in Northeastern Pennsylvania as the Susquehanna River plunged through the ceiling of the Knox Coal Mine, leading to the collapse of the region's only major industry. Young Antonio flees his hometown before he learns of the disaster. While away he builds a new life for himself and gains a family in the process. When once again the river upends the lives of those living along its banks, it also calls Antonio back home to his people, only now as a respected and generous business owner. In serving his community, he seeks to restore the broken relationships of his past but finds only awkwardness and absurd conflict because he refuses to confess to the crime which drove him away.
Like the flow of water, the events surrounding the generations of Antonio's family are at once under their control and in control of them. The course of Antonio's life may have been altered by a crime, but Antonio alone must navigate through the consequences of that event. Ultimately, he will be responsible for what he becomes. In the days following Antonio's death, his true legacy is revealed as his wife, his son, and his very clever grandchildren Tony and Olivia discover long forgotten secrets of what happened fifty years earlier on the day of the mine disaster. They will come to understand the difference between possessing treasure and owning it.
My Thoughts:
I really enjoyed how Owning Treasure went back and forth between the generations. The story itself is wonderfully laid out and so well written that it will draw you in and keep you reading to the end. The characters are all so real that you can easily see them as people you would know or meet. While the mystery part of the story is there with the crime then real is story is about family. A sequel, "Antonio's Letters," is already in the works. Although the release date is not set, the first chapter can be read on Joe and Laura's Website.