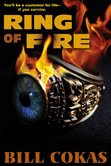 About the Book
Seeking refuge from a corporate scandal, Wally Gibbs trades his corner office in Chicago for a tweed jacket with elbow patches in a quaint college town. He soon realizes he wasn't meant to teach marketing; he was meant to reinvent it. And the timing is right. To Wally's perverse delight, the economy has brought consumers everywhere to their knees. In Wally's own words, "people are so desperate to lop thirty cents off a cantaloupe, they'd give a urine sample at the checkout." During a routine colonoscopy, he envisions a new hyper-efficient marketing vehicle, which he labels "Project Argus."
As Wally ensnares his unsuspecting students in the beta test, Project Argus catches the attention of eight-fingered frustrated campus policeman Nick Pappas. Sensing a connection to an unsolved student death, Nick becomes obsessed with exposing the scheme, even "deputizing" student cartoonist Zak Dawson to do the digging he can't. The pair follows Wally to a tiny Greek island, where he acquires a rare exotic gem that he smuggles back home and turns over to a local jeweler. Within a few days, the hottest-selling graduation ring in the school's history is quietly collecting data–and claiming lives.
Ring of Fire is a quirky suspense full of wry social satire, combining offbeat characters, a contemporary twisted plot and a setting that's equal parts academia and Aegean Sea. Those who appreciate the offbeat characters and unconventional plots of Carl Hiaasen, Marshall Karp and Bill Fitzhugh should thoroughly enjoy Ring of Fire.
My Thoughts
Wally Gibbs, a marketing professor by default, is having a colonoscopy when he dreams up a covert way to monitor the spending habits of America. After a mysterious death on campus, Nick Pappas, campus cop, starts to investigate Wally, with a little help from one of Wally's students, Zak Dawson. From the local jeweler to the isle of Greece, Pappas and Dawson stalk Wally Gibbs, looking for the connection to the death and the sudden popularity of the school's class ring. Unfortunately, more people are dying, and time is running out.
A crime novel with a humorous angle, Ring of Fire is not your everyday thriller which is why I enjoyed it so much I think.  It is easy to hate the  disgusting and unethical Wally Gibbs but then we are given Nick Pappas as the down-on-your-luck hero to love as well as Zak Dawson the geeky student hoping to score a date. I found myself laughing at out loud which is all I can honestly say without giving the plot away. This is a must read if you like the work of Carl Hiaasen then you will love Bill Cokas.