Finding stylish and cute items to dress your baby in can be tricky but not when you know where to find them. That is why I do the research and testing for you. My newest find is Uh-Oh Industries who has some of the cutest items I have seen. Their name certainly is apt considering their line is called The Messy Line and has items that simply say it all.
Lots of thought and consideration went into launching Uh-Oh Industries. Each and every concept, design choice and decision was carefully considered. The result? An eco-friendly children's clothing line – one that matches the bubbly, free spirited nature of kids.
Uh-Oh Industries was officially born in 2010. Though, the idea of Uh-Oh originally started with a doodle. Bored in class one day, Frankie Testa, founder and designer of Uh-Oh, kept himself busy by sketching random shapes. One in particular stuck out in his mind – it resembled a stain. With that and the help of his family and friends, of course, the idea evolved and Uh-Oh Industries got its start.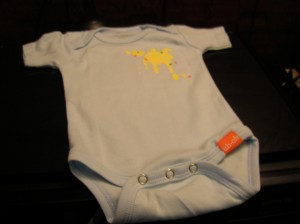 I received the A-B-Oop-C's onesie to review and as you can tell it is super cute. It is available as a onesie (bodysuit) or a tee in sizes 3 months-5T and your choice of white or light blue. the light blue is perfect for a little boy but I will tell you that little girl could just as easily pull it off. I love the letters in what appears to be glue splattered on it just the way children do from time to time.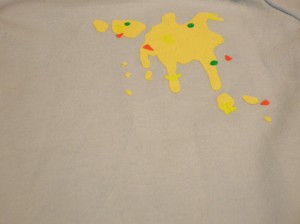 As you can see from Uh-Oh Industries has taken the greatest care to make the "mess" look just the way children do.The letters are in white which is why they are difficult to see in the pictures. Be sure that you check all the other products in The Messy Line by Uh-Oh Industries because I promise that you will find at least one (if not more) that is simply your baby, just like I did. Maybe they will make adult sizes because I know there is at least two items that are totally me!
Enter below for your chance to win a Messy Line item of your very own.
ENDS August 24, 2012
The giveaway has now ended and the winner has been announced on the Winner's Board!