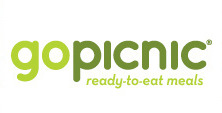 How many of you eat on the run? We do a lot and I really hate having to feed my children fast food or make something that my not keep long enough for them to eat it. I could give them those little lunch things you buy in the grocery store but I might as well be pouring a can of salt down their throats. I discovered GoPicnic from a friend who suggested I check them out.
 GoPicnic has revolutionized the concept of boxed meals, offering nutritionally balanced, shelf-stable, ready-to-eat boxed lunches and meal boxes that require no refrigeration, heating, or preparation. No bigger than a hardcover novel, GoPicnic boxed meals are easy to transport in a laptop bag, backpack, or handbag, and are meant to be enjoyed anywhere, anytime.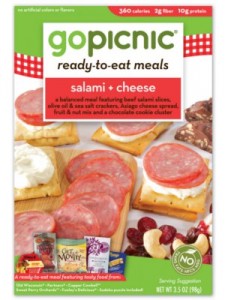 I received two GoPicnic meals to review and I will say that I was surprised at the size. They really are about the size of a novel and are perfect for in the car or just about anywhere. The Salami and Cheese was my son's favorite because he a meat eater. He said he would love to get more of these so when we take trips he could have it in the car. He's right! We are getting ready to drive to Myrtle Beach and the kids are always wanting a snack and these would be perfect for them.These are the items included in the Salami and Cheese Box:
Old Wisconsin Beef Salami Slices
Partners Get Movin' Olive Oil & Sea Salt Crackers
Copper Cowbell Asiago Cheese Spread
Sweet Perry Orchards Cashew Medley Fruit & Nut Mix
Funley's Chocolate Cookie Cluster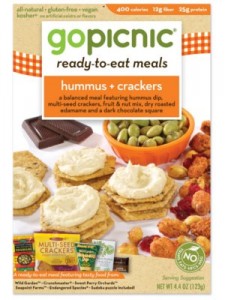 I tried the Hummus and Crackers because I had never hummus before and wanted to find out what it tasted like. I was really surprised at how good it was. It was the one of the best little lunches I had in a while. I got just enough to eat without being hungry and a little snack to to go along with it. These are included in the Hummus and Crackers meal:
Wild Garden Hummus Dip
Crunchmaster Multi-Seed Crackers
Sweet Perry Orchards Baja Blend Fruit & Nut Mix
Seapoint Farms Dry Roasted Edamame
Endangered Species Dark Chocolate Square
GoPicnic Meals truly are great and I hope that you will check them out. I should tell you that not GoPicnic meals are gluten free so be sure to read the ingredint list  before you make a purchase. To give GoPicini a try for yourself 1 lucky reader will win 2 GoPicnic Meals of their very own, so enter below for your chance to win.
ENDS August 27, 2012 at 11:59 pm EST