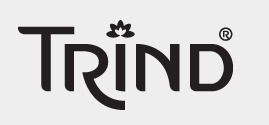 Up until a few years ago I bit my nails and they always looked awful. Now I work hard at not biting them and making sure they look nice as often as I can. I love trying different colors out on my nails and although I always come back to the basics such as the French Manicured look it is still so much fun seeing what looks good.  Trind helps me do that effortlessly by having some of the best nail products I have ever used.
Trind is Europe's most trusted and respected line of hand and nail care. It is found in the finest perfumeries from St. Tropez to the Champs Elyseé in Paris, and from Stockholm to Milano. Founded in 1988 by Theo Bouwen, Trind Cosmetics is located in the Netherlands. The outstanding line of Trind premium products evolved from a passion to do the impossible; this is what drives Theo Bouwen! Theo wanted to solve a problem that nobody else had been able to solve – he wanted to develop products that would help all women have strong and flexible nails, a product whose effectiveness was sustainable.
I was sent three different nail polishes to try out and as you can see from the pictures each one looks great but it vastly different. I usually like the really light shades such as the two pink but I went in a different direction with the Burgundy as you can see from the picture. I must say that I thought I had gotten a purple at first because that was how it looked but then once I got out into the light I could tell it was more red than purple. Hubby loved it as he is a huge fan of anything red.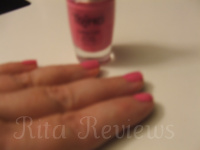 The Pastel Pink is much like an Easter egg pink to me and a little too much on my hands but looks great on my toes and looks great on Victoria's hands. My coloring is a bit too light for it I think. I am really wanting to try the Pale Pink as I think it will look great when I do my French manicure.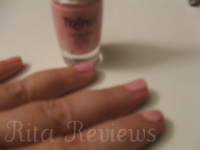 The Pastel Peach is good because it is one of those light shades that tend to go with just about anything. I really love how well looks when I wear grey. It just makes such a soft statement without having to say much at all.
You can use any of the Trind Nail Polishes on their own or with any of the nail treatments that are available. When you combine them all you get the best looking nails possible. It looks like you spent hours at the salon when in fact you did it yourself at home.