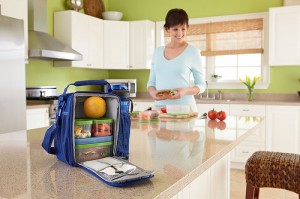 How many of you remember the days when you took your lunch in a little brown bag only to have your sandwich crunched by the time lunch actually rolled around. I used to hate that or worst want to take something cold but couldn't because there was nowhere to keep it. The Rubbermaid LunchBlox Sandwich Kit helps you prevent the crushed sandwich issue. The LunchBlox Sandwich Kit is a neat little set that includes four separate containers and a Blue Ice pack that attaches to the bottom or in between of the containers and will help keep your food chilled.   The separate containers are modular and lock together to keep everything neat, organized, and together. Lunch is much easier now with the LunchBlox because I can now put everything together and it stays together.
I love that I can take my salad with me to the park and enjoy it while watching everyone. I usually walk to the park and with the weather being what it is whatever I take usually isn't worth eating by the time I get there or I have to lug a big bag with lots of ice packs. Now I can enjoy my salad with a little turkey and crouton and keep everything separate, fresh, and cold until  I am ready to enjoy it.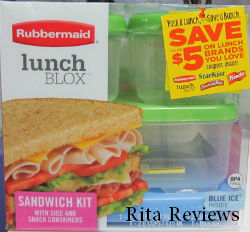 My only issue is that the snack size containers are very small. They are perfect for dried fruit, nuts, salad dressing, croutons,maybe even a small cookie but that really is all you can get in there. They would be perfect for baby food or Cheerios as well.
The Rubbermaid LunchBlox Sandwich Kit retails for about $12.99 ,can be found at major retailers, and for a limited time you can find a money saving coupon for the LunchBlox sets on Rubbermaid.com
**I was sent the LunchBlox from Rubbermaid for the purposes of this review however all opinions are my own.