A RENDEZVOUS TO DIE FOR by Betty McMahon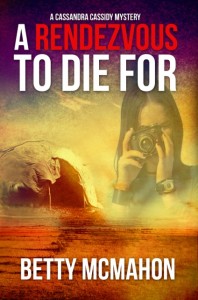 Imagine if you can a murder mystery set in an 1830s Rendezvous of trappers, mountain men and Indians – but investigated by a feisty 30s-something female photographer from the 21st century.
That's the setup for my book, A RENDEZVOUS TO DIE FOR. Cassandra Cassidy is hired by the Duluth, MN newspaper to photograph a local 1830s Rendezvous reenactment. She's perfect for the job because, although she photographs weddings to pay the bills, she gets her creative kicks making portraits of some noble, and some not-so-noble Indians on and off the nearby rez.
Cassandra and her cameras head north — not knowing that her nemesis Eric Hartfield, a defrocked newspaper reporter, is heading there as well.
Not long after settling in and photographing some of the Rendezvous' colorful characters, she and Eric cross paths and exchange some scathing words on the very public Rendezvous grounds. The sheriff takes their verbal scuffle into account after Cassandra discovers Eric in an Indian sweat lodge outside the grounds — with a tomahawk buried in his skull. Eric is well beyond any future such scuffles.
Cassandra is forced to clear her name, but before she figures out how to do that, she discovers two more bodies. All three murders are somehow connected to the Prairie River Trappers' Rendezvous and its cast of colorful characters. An ambitious detective is convinced of Cassandra's guilt and, worse, some of her friends begin to look like possible perpetrators. Cassandra must use her photographic expertise to find clues that lead to the killer.
"A Rendezvous to Die For" is available at Amazon.com in either a print or Kindle ebook version. Learn more about the book and author and what other readers think of RENDEZVOUS at www.bettymcmahonwriter.com.