How often do you update the drivers on your computer? If you are like me you probably do whenever you get a new computer because you simply don't think about those sort of things (unless you a computer geek.) My poor computer has had a few issues and to be honest I thought that when I got attacked my a virus and had it cleaned they updated my drivers. Well they did not!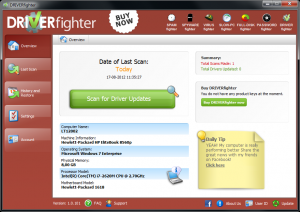 DRIVERfighter can help with that and is very easy to use. You go to the site and can get a free scan then you can choose to purchase or not. Once you have the free scan and see just how many drivers that are out of date you will buy. All you have to do is once a week scan your computer, if there are any that are out of date DRIVERfighter will let you know and you click update and they are updated.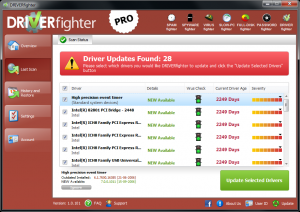 I had a total of 13 drivers that were put of date. Can you believe it, 13? No wonder this crazy computer doesn't want to work half the time. My drivers haven't been updated since 2001 and I am a bit embarrassed but I didn't know. Now I check them weekly. Why would you want to download a program to update your drivers? Well there are several reasons:
Stability
When you update your outdated drivers, you have less issues with your computer.
Improved hardware functionality
The latest manufacturer driver updates often contain improved and new functionality for your hardware components
Performance
With updated drivers your PC may perform much faster.
Productivity
Stop wasting your precious time manually looking for driver updates available
Safety
Finding drivers by yourself may lead to sites and drivers infected with malware.
A 1 year license of DRIVERfighter is valued at $29.95 but you can currently get it at an introductory price of $19.95. The best part is 3 lucky readers will each win a 1 year Product Key for DRIVERfighter. Enter below for your chance to win.
ENDS October 26, 2012 at 11:59 EST