I am so happy that Autumn is almost here.  I love all the fall colors and I love that I can again wear sweaters, scarves, hats, and cuddle with hubby on the sofa to keep warm. In fact sometimes I turn the air on just to make him cuddle with me!
One of the leading trends for Fall 2012 is fun, bold scarves.   FRAAS, being a long-time category leader in this category, is proud to debut their new line of refreshing & versatile INFINITY style scarves to their collection. The rising interest in the scarf and wrap/stole category is evident everywhere, as witnessed by looking around at fashion-savvy women.  This past summer, scarves were seen all over as a trend to be reckoned with, even in the hottest Summer temperatures!
Neutrals, jewel tones and accent pop colors provide savvy consumers with the right styling and best shades to work with existing and new wardrobes.  Take Style 060542, the Fairisle Infinity, for example– which is comprised of acrylic, nylon and a bit of wool.  It is soft and extremely lightweight which makes it a great item for transitioning from season to season.  It is also ideal for travel and almost any location and climate.  It loops easily and requires no tying which is one of the genius things about an infinity scarf.  Not only will it dress up and function with outerwear, it will look great with a sweater, dress or blouse, and as an accent accessory.  Colors include navy/turquoise, camel/ivory, rose/petal, and black/grey.  This particular item retails in most stores for abut $40.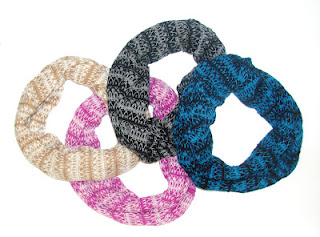 I was fortunate enough to receive one of these beautiful scarves to review.  I was given the navy/turquoise, which is simple breathtaking and so soft to the touch.  There are a variety of ways to wear this particular scarf and that is the beauty in it.  I could not be more please with it and cannot wait until the weather gets cool enough to wear it out.
You can  buy the FRAAS Fairisle Infinity scarf or check out other FRAASmerchandise, please view the online store, Amazon.com or at specialty stores throughout the country.  You can also visit their Facebook or Twitter for more information.