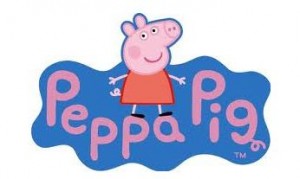 Have you heard of Peppa Pig? Chances are if you have a small child you have. Peppa Pig is on Nick Jr and she is this cute little English girl pig. The show is about her family that consists of her brother George, mother and father.  She also loves to visit her Granny and Grampa Pig who live just a car ride away. Her favorite activity is jumping in mud puddles and playing with her best friend Suzi the sheep.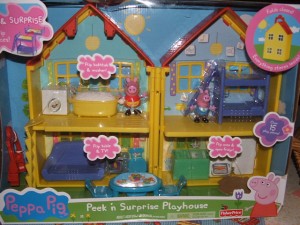 Now there is a new Peppa Pig product line that has launched at Toys R Us which included books, toys, and DVDs. We were sent an assortment to try out and I will say that I fell completely in love with Peppa. The Peek 'n Surprise Playhouse (shown above) is great. Various items turn over to show other items, for example the washer turns from no laundry to washing laundry.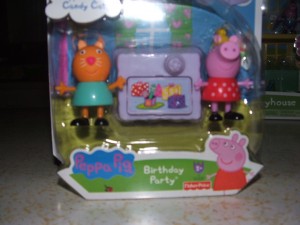 The Peppa & Friends Birthday Party is a smaller pack but works a lot like the Peek 'n Surprise. It comes with Peppa and Candy Cat. This is actually a great addition to the larger Peek 'n Surprise.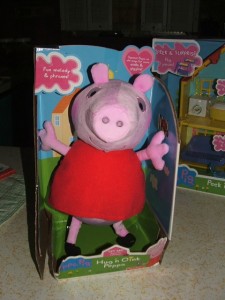 My favorite toy was the Hug 'n Oink Peppa. This is simply the most adorable thing ever! To show you just how cute Peppa really is watch the little video below.
Watch Peppa Pig: You can find Peppa Pig on Nick Jr including fun coloring sheets and activities for your children. Check you local listing for air times.
Purchase: You can purchase all the above mentioned toys and more at Toys R Us
Connect: Connect with Peppa Pig on Facebook.
**I worked in conjunction with Child's Play on this post but all opinions are my own.**