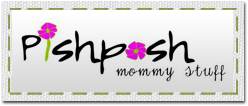 Being a mom means you are always carrying a million things around and sometimes they can be a bit wet or even sticky. The question is how do you handle all those moments with style and grace? Drink a lot! No I am just kidding, I found the way to help hauling all my stuff around with a little grace and a lot of style. PishPosh Mommy Stuff  has some great organizing bag solutions.
The PishPosh Carryall is a product that was created out of necessity to add organization when scrambling to gather our kids and get out the door. We felt like we were always forgetting something because there wasn't a place for it. At the same time, we still wanted to use our designer purses rather than a bulky diaper bag. So instead of throwing everything into a Ziploc, we came up with a solution that would compartmentalize all our needs… the PishPosh Carryall. You can use the pockets for whatever you want to take with you, wherever you want to go. No more forgetting an item because it didn't have a place and long gone are the days of carrying big bulky diaper bags.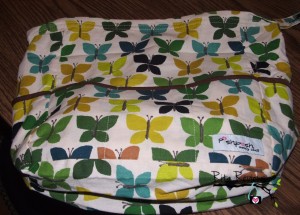 I received the Ashbury Carryall and am loving the colors. The concept behind this handy little bag is genius, it really is. I put all the little daily things such as bottles, snacks, etc into the carryall and then I use it to transfer items between bags. If I am running in I use only the carryall. It has everything I need everyday right inside there and I don't have to worry when I change diaper bags because everything is moving with me.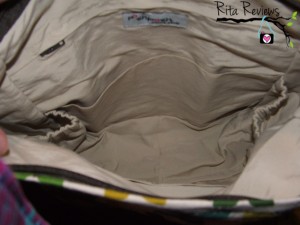 The little wristlet helps when using it alone although it would be great if the carryall came with a strap so you could use it as a mini diaper bag if you wanted to. As you can see there is lots of room on the inside and all of those pockets are wonderful.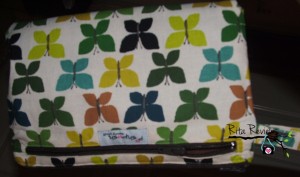 I also received an Ashbury Wet Bag, which of course matches the carryall. This bag actually starts out small (shown above) and will open up larger (shown below) to you can stuff it full of those wet clothes that will happen. It is also great for cloth diapers to go in when you are out and about.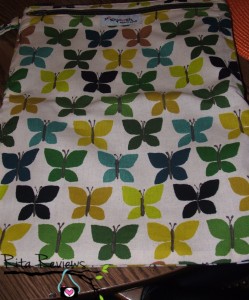 Like the carryall this wet bag could have multiple purposes depending on how creative you get and desperate you are. In fact it is perfect for car trips because you have something to put the clothing with the "accidents" into but could also be used to pack your toothbrushes and other items for trips. It's great for a day at the beach or the pool because you can out everyone's wet swimsuits into the bag.