"National Clean Out Your Garage Day" is an observance dedicated to educating Americans about garage safety. This year, Ace Hardware and Quickie are joining The Lehigh Group, manufacturer of Crawford branded garage organization products, making the 2012 program the largest campaign to date. It was celebrated on September 8th this year but if your like me you are already doing a million things so why not celebrate the day today?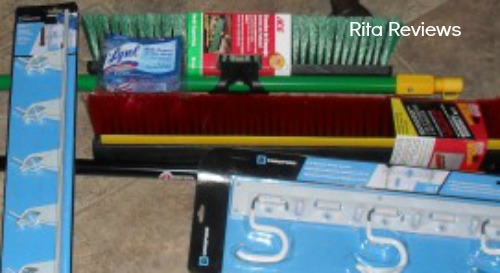 I don't have a garage but I have a back porch with a laundry room that has begun to look more like a garage and is in desperate need of some serious cleaning. So after bribing the kids with money, candy, and finally having to pull out the "mom voice" I got them to help me some. While there is now a huge pile of things that need to be taken off to the dump everything is finally looking a little better.
Crawford has prepared organization kits – filled with essential tools to help you with your garage organization.
-Crawford 16" Adjustable Storage Organizer: Designed for use anywhere in your home, garage, workshop, tool shed or basement, this system is great for hanging brooms, rakes and other lawn supplies.
-Crawford Sliding Spring Grip Organizer: Grips slide into position anywhere along the bar for maximum use. Guaranteed to never lose tension, the grips can hold hardware, garden tools, shovels and more.
-Quickie 2-in-1 Squeegee Pushbroom: This 2-in-1 pushbroom is designed for both indoor and outdoor use. I am loving this!
-ACE Multi-surface Pushbroom: This durable pushbroom is perfect for sweeping heavy debris. This was my dad's favorite tool when I was growing up. We had to use this every single time we swept the basement.
How do you manage keeping your garage (or whatever space you have) organized and clean? Need a little help, well enter below for your chance to win the kit mentioned above.
ENDS October 7, 2012 at 11:59 pm EST