How many times do you need something on your shoulders when it rains? I hate when my purse gets wet because for whatever reason I didn't manage to hold the umbrella over it as well and cloth purses suck when they get wet. Doesn't that make me sound crazy? It is the truth though. RAINRAPS are a new innovative accessory for the fashion conscious consumer.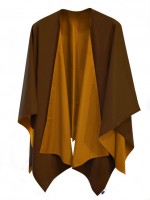 What RAINRAPS are essentially are alternatives to traditional raingear that is very stylish and easy to slip on and off. I received the Original Brown +Bronze RAINRAP and it is very stylish. I love that I can throw it on with my purse still on my shoulder and manage to not get soaked in the process. It handled really well in the rain and looks so stylish that I am getting my aunt one for her birthday.
The one thing I had wished mine had was a hood, that way I wouldn't need an umbrella. After visiting the site I discover that there is a hooded version and colors are to die for. I think I am going to order one with a hood for myself as well. The hooded ones also have a travel pouch which perfect because you can toss it in your bag when they are calling for rain. If you are curious what stores you can find  RAINRAPS in you can't. You have to visit the site.