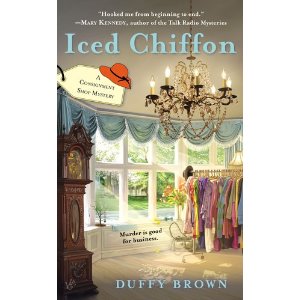 About the Book:
Iced Chiffon, the first book in a new mystery series by Duffy Brown. The series takes place in Savannah, Georgia and has all the charm that only life in Savannah can bring.
Reagan is working hard to financially recover from an ugly divorce that left her with nearly penniless, with the exception of a bundle of designer clothes and high-end goods. Only 32 years old, Reagan is feeling bitter toward her showy, realtor ex-husband Hollis Beaumont, who left her for his "Cupcake" – a ditzy woman half his age and with an eye on his pocketbook. In an effort to pull her life back together, Reagan turns a portion of her home into a consignment shop. However when Cupcake is found dead in the trunk o Hollis' car and Reagan faces the thought of losing her house to her nemesis, Walker Boone, Reagan does what any sensible Southern girl would do. She sets out to find Cupcake's killer and save her home.

My Thoughts:
I found myself laughing out loud as read Iced Chiffon, in fact when Cupcake is found dead I almost fell out of my chair laughing. Duffy Brown has brought a group of characters to life that you could easily see on the big screen. If you grew up in Georgia then you can relate to many of the characters and see your family members in them. I have an aunt who is a dead ringer for Aunt Kiki. I read lots of books and plenty of series books but I can honestly say that I am looking forward to the next book in the Consignment Shop Mystery series.
Iced Chiffon  will be released on October 2, 2012 but can pre-order it now. To help celebrate the release of Ice Chiffon one lucky reader is going to win a copy of the book, a tote, and a t-shirt. Enter below for your chance to win.
ENDS October 12, 2012 at 11:59 pm EST