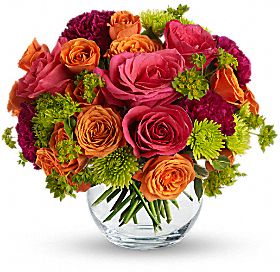 Don't you just love flowers? I do and I love receiving them, although hubby doesn't always send me some.Usually I get them for something important like an anniversary, birthday, or his has done something that has landed him in the dog house (typical man!) I try to send beautiful flowers as gifts as often as I can.
I know what you are thinking "flowers don't last." They don't have to! Flowers, well more importantly Telflora Flower Deliveries are my go to gift when I really want to make someone's day. The reason is that there is no better feeling than when you open the door and see something as beautiful as flowers. You feel so loved and just good inside. I send flowers a lot to family and friends who have been feeling a bit out of sorts. It's like sending a them a big hug.
Flowers are such a personal gift because you have to take the time to select the right ones. You don't want to send roses to someone who is allergic to roses which is the part of the reason I choose Telflora Flower Deliveries,  I can find the perfect flower gift by occasions or just check out their deal of the day. Telflora also makes sending flowers a breeze and you can send just about anywhere. So when I need to send the perfect gift to my mother in-law in Mexico I head straight to Telflora! She thinks I spend hours selecting the right flowers which means I get brownie points for being the best daughter in-law and I get the most for my money along with the knowledge that I had experts on my side helping me.
You just can't go wrong! Check out Telflora Flower Deliveries for your next gift giving need and I promise you will have the perfect gift, always!
**This sponsored post was made possible by Mom Spark Media. I was compensated for my time investment and work on this campaign. Thoughts are my own**