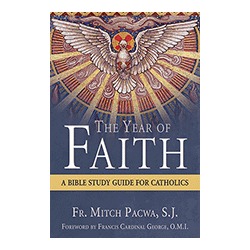 About the Book:
Our society is struggling with what Pope Benedict has called "profound crisis of faith that has affected many people."
In response, the Holy Father has called us all to a Year of Faith from October 2012 to November 2013.
We see the signs all around us: the demand for science to prove everything before we can believe it, the role of media and celebrities who deny the existence of God and denounce the role of the Church, and the ease in which we can all isolate God and faith into only one part of our life.
In a follow-up to his best selling St. Paul Bible Study for Catholics during the year of St. Paul, Fr. Mitch Pacwa once again leads Catholics to a deeper understanding of Pope Benedict's call to action for the year.
Perfect for individual or group study, this book is a wonderful guide to experiencing a conversion, growing in faith, and following Jesus Christ more closely. It shows us how to integrate every component of our life – relationships, morality, work, recreation, and all – into a meaningful whole.
Make the most of Pope Benedict's Year of Faith, walking hand in hand with Fr. Pacwa as he guides you through the beauty and insights of Scripture in relationship to your everyday life.
My Thoughts:
Fr. Mitch Pacwa's The Year of Faith: A Bible Study Guide for Catholics is the perfect way to honor the pope's call and counter the attacks on faith.  Fr. Mitch takes you on a journey through the Bible and the liturgy that will refresh your faith. For someone like whose faith has been strongly tested to the point of turning away from it this guide is the helping hand needed to find your way back.
Purchase the Book:
You can purchase The Year of Faith: A Bible Study Guide for Catholics at The Catholic Company.
This review was written as part of the Catholic book reviewer program from The Catholic Company. Visit The Catholic Company to find more information on The Year of Faith. The Catholic Company is a great resource for tools to help you participate in the Year of Faith, including Year of Faith bible studies and exclusive Year of Faith personalized gifts. The Catholic Company also has all your Advent needs in stock, such as Advent calendars and Advent wreaths.