Tuesday, October 16th is World Food Day in which  Oxfam America uses this day each year to help promote conversation about where your food comes from, who cultivates it, and how you can take personal actions that will make the food system more just and sustainable.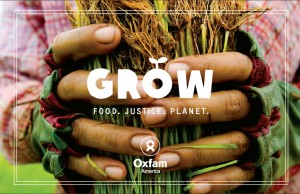 Oxfam has launched the GROW campaign to build a better food system: one that sustainably feeds a growing population (estimated to reach nine billion by 2050) and empowers poor people to earn a living, feed their families, and thrive. This is wonderful because according to Oxfam America:
One in seven people goes to bed hungry every night. Not because there isn't enough food, but because of deep imbalances in access to resources like fertile land and water.
Can you imagine putting your child to bed every night knowing that it was going hungry and not being able to do anything about it? It is simply heart breaking when you think about it.After checking out the GROW campaign for myself I discovered some very interesting things such as 1 pound of ground beef  uses more than 28,000 cups of water to produce and that a third of our food on our plates ends up lost or wasted.
More Information and a Few Things You Can Do:
GROW Method Pinterest Cookbook:  find more GROW method recipes r you can pin your recipe using the hashtag #GROWmethod and have it added to the cookbook.
Snap a photo of your World Food Day meal on Instagram and tag it with#WFD2012 .
Host a World Food Day Dinner Discussion: you can find all the information you need to help you host a great discussion here.