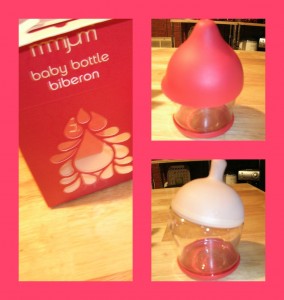 Sometimes you come across a product that is simply cool and awesome! That is what I thought when I opened the Mimijumi baby bottle when it came in. I had never seen anything like it before to be honest but I am getting ahead of myself. Mimijumi  has named their bottles the Not So Very Hungry and the Very Hungry which I think is so great!
I received a Not So Very Hungry bottle and as I said I think that it is simply awesome! It looked a little like a mushroom when the cap was on but once you take off the cap you see the sheer genius behind this design. If you are attempting to make the transition from breast-feeding to bottle feeding then this is the bottle to do it with. The reason is because the nipple itself is so simpler to mom that baby will not notice the difference.
Mimijumi  is a design driven company that specializes in simple, safe and natural products for the modern family. Through the design and production of infant care essentials, mimijumi products are made for both baby and parent to create the most natural experience possible.This design is based on the psychological dynamics of feeding/soothing items as transitional objects
Share Your Story:
What sort of baby bottle (if any) do you use now? Would you use the Mimijumi?